I know how much you crave to worship my feet and heels. They just turn you on so much, you are sooo fucking pathetic. My feet make you so horny. So I'm going to allow you to do something special to my feet today. But the only reason I'm giving you this training, is to further push you under as my foot slave. So here's what I want you to do… I want you to lay down flat against the floor, so you can feel your cock against the floor. Then I want you to hump the floor while you worship and stare at nothing but my feet and heels.
Put your computer on the ground right next to your head so you can watch as I tease you with my feet as you hump the ground like a fool. Get horny and stupid for my feet loser. Look how stupid you are, humping the floor for my feet and heels. Hump faster and harder, I want you so pathetic for my feet. You're not going to see my beautiful face, only my feet. But that's all you really deserve anyway. You live to worship at my feet.
Look at my perfect toes, my sexy soles, and my strappy high heels. You love them. You're a foot slut, a floor humping foot fool for me. And the hornier you get, the more you live to worship my feet. I'm manipulating you loser and there's nothing you can do about it, there's nothing you want to do about it because there's no where you'd rather be. My feet own your world.
Don't stop loser, keep humping the floor. Praise my feet before you. Show me how low you'll go just for my feet. Pound the ground for my feet. I'm going to make you cum through your pants all over the fucking floor with my toes, lol. And once you do, you'll never be able to cum any other way.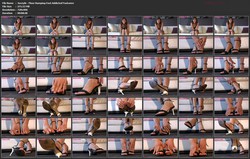 Download Files :
Joceyln – Floor Humping Foot Addicted Fool.rar